Cheap Flights to Brisbane
Queensland's lush, tropical capital city has a character all its own, with everything from a thriving cultural scene to world-class bars and restaurants – all to be enjoyed at the city's trademark laid-back pace.
What to know before you fly to Brisbane?
Brisbane is the business and cultural hub of Queensland, offering a variety of food, fun and entertainment. The city is also the site of a range of tourist attractions from South Bank Parklands to Lone Pine Sanctuary and a reputable Cultural Precinct, making it an ideal destination for a taste of Queensland.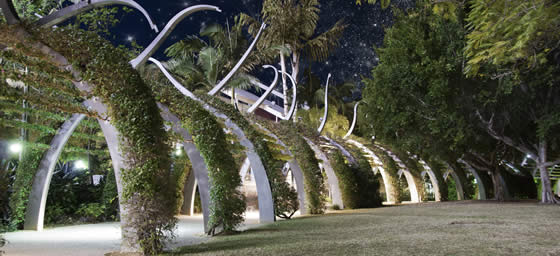 Southbank Parklands
You'll notice when you first arrive in Brisbane that the city is heavily focussed on the outdoors. Brisbane boasts sunny weather in winter and very warm days in summer. As such, outdoor picnics, sporting games and swimming comes naturally to the locals here. While in town, watch a game of rugby league or cricket, or take a dip at South Bank's man-made beach that overlooks the city.
While Brisbane's outdoors offer an array of activities, inside the city you'll find a bustling world of trendy cafes, boutique shops and cultural attractions. One of the city's most prized assets is the Gallery Of Modern Art. Boasting world class and innovative exhibitions, GOMA has something to captivate all types of gallery goers, from experts to art novices and even the kids. Next door to GOMA you'll find the State Library, an ideal venue for entertaining and inspiring the kids, while close by you can catch a play or musical at the Queensland Performing Arts Centre.
Story Bridge
Best time to fly to Brisbane
The ideal time to visit Brisbane is during the driest months of Winter: June to October. The summers can get quite humid, but if you don't mind the heat, consider heading up between March and May after the peak tourist period.
Flights to Brisbane cost ranges
Direct flights to Brisbane from Christchurch, Auckland or Wellington start from approximately $250-500. This all depends on the time of year and can be packaged with accommodation and car rental, so make sure to speak to our team about finding the best deal.
Health
Your health is always our priority here at Flight Centre. Speak to us about current health and safety considerations you'll need to factor in when visiting Brisbane. You can read up on all the current COVID-19 updates on the Queensland Government's website or view our Customer Support page for the latest developments.
Australia visa Information
Most permanent New Zealand residents will automatically qualify for a Special Category visa which allows them to travel, work and study in Australia as long as they'd like. Check your eligibility here.
Brisbane flight time
The average direct flight time to Brisbane from Christchurch, Auckland and Wellington is 3.5 hours.
Speak to one of our travel experts to help tailor your travel package including flights to Brisbane.
Our travel experts can assist you with