Cheap Flights to the Gold Coast
Australians love to debate about which state is the country's best. While there can be no winner, Queenslanders still love boasting about their World Heritage-listed sites, beaches, cosmopolitan living, outback adventures and warm year-round weather
What to know before you fly to Gold Coast?
The Gold Coast isn't all about the neon lights of Surfers Paradise and Broadbeach. Try venturing further south to discover the beautiful scenery and laid-back vibe of Tweed Heads, Coolangatta, Tugun and Currumbin. You'll also find plenty of great surf spots in these parts and plenty of nice, relaxed places to eat and drink. Alternatively, travel inland to Mount Tamborine for some incredible walking trails, lush mountain scenery and a plethora of fine wineries, breweries, cafés and art galleries.
Surfers Paradise
If you're travelling as a family, of course no Gold Coast holiday is complete without a trip to one or more of the theme parks. All of the 'big four' parks – Dreamworld, Movie World, Sea World and Wet'n'Wild – are world-class theme parks in their own right and each requires a whole day to experience properly. For something a little more light hearted, visit the Currumbin Wildlife Sanctuary or enjoy a night out at the Australian Outback Spectacular.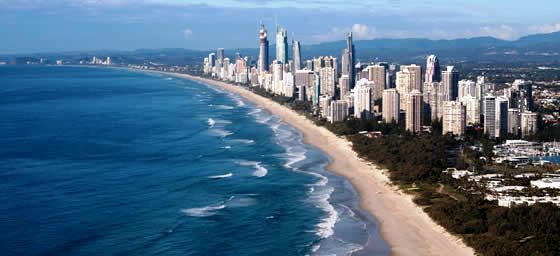 Golden Coastline
Fancy learning to surf while down the coast? There are numerous surf schools on the Gold Coast, spread out all the way along the coast from Main Beach right down to Coolangatta. You can also try your hand at wakeboarding or kitesurfing at several places around the region if you're feeling a little more adventurous.
Best time to fly to the Gold Coast
The Gold Coast might enjoy post-card worthy sunshine for most of the year, but that doesn't mean there isn't a right time to go. You might be tempted to head there during the summer period, but this comes with the challenge of large crowds and often higher humidity. Towards the end of January and throughout February, the humidity also increases the chances of rain.
It's often more comfortable to travel during Autumn and Winter (March-October) when the weather is still warm but the tourist flocks aren't in overdrive.
Health
Your health and safety is our number one focus here at Flight Centre. Speak to our team about the most current safety precautions you'll need to be aware of when flying to the Gold Coast. You can also read up about them on our Customer Support page.
Australia visa Information
There's no visa required to travel or work in Australia if you're a permanent New Zealand resident. Otherwise you can find out the type of visa you'll need by visiting the Australian Government's Immigration and Citizenship page.
Gold Coast flight time
Looking to fly to Gold Coast from Auckland, Wellington, or Christchurch? It's an approximate 3.5 hour direct flight from Auckland and approximately 3.75 hours from Christchurch or Wellington.
Speak to our travel specialists today about finding you the right flights, at the right price.
 
Our travel experts can assist you with