Cheap Flights to Hong Kong
The region of southern China known fondly as 'Honkers' has an intriguing history and a blindingly bright future – this global powerhouse shows no signs of slowing down!
What to know before you fly to Hong Kong?
One of two administrative regions in China, Hong Kong is a city state known for its glittering city skyline and expansive harbour. Much like its famous assets, Hong Kong is commonly referred to as 'where east meets west,' a futuristic city that still values its age old traditions. At dawn you could easily find party goers heading home from the latest techno club wandering past a peaceful Tai Chi class. It's this unique clash and the city's endless possibilities that make Hong Kong such a popular tourist destination. Whether here to shop and splurge or to learn more about the city's unique culture, or both, a holiday in Hong Kong is guaranteed to leave you wanting more.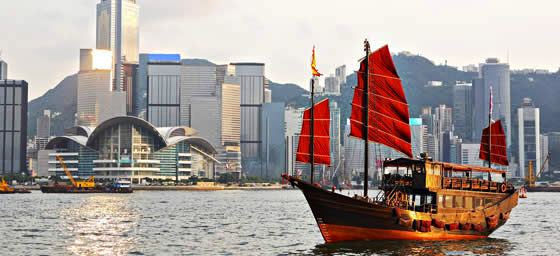 Hong Kong's Harbour
Hong Kong's unique culture is the result of historic British Rule and Chinese influence. Today the city's range of cultures continues to expand as expats from around the world base themselves in Hong Kong. In the business world, Hong Kong is a valued meeting point between Asia and the rest of the globe and is also an important hub for trade. As a result, Hong Kong accommodation is plentiful, with numerous luxury hotels making their mark on the city skyline. The city state is also one of the most densely populated places in the world. Despite such crowds, Hong Kong is also famed for being incredibly organised, clean and efficient.
More than just spectacular city views though, Hong Kong is a city full of unique experiences. The exotic range of food alone will easily keep your mind occupied. Then there are the markets full of chatter, rows of designer boutiques and pulsating bars and nightclubs. Away from the hustle and bustle of the streets you will find Hong Kong's peaceful side, where locals enjoy a quiet moment to themselves in the city's many tea houses. Experience the diversity of this exotic city on a Hong Kong tour.
City View from Peak Tram
Our travel experts can assist you with